Southeast Technical College offers students several scholarship opportunities: Build Dakota Scholarships, Early Childhood Workforce Support Scholarships, Southeast Tech Scholarships and CTE Academy Scholarships.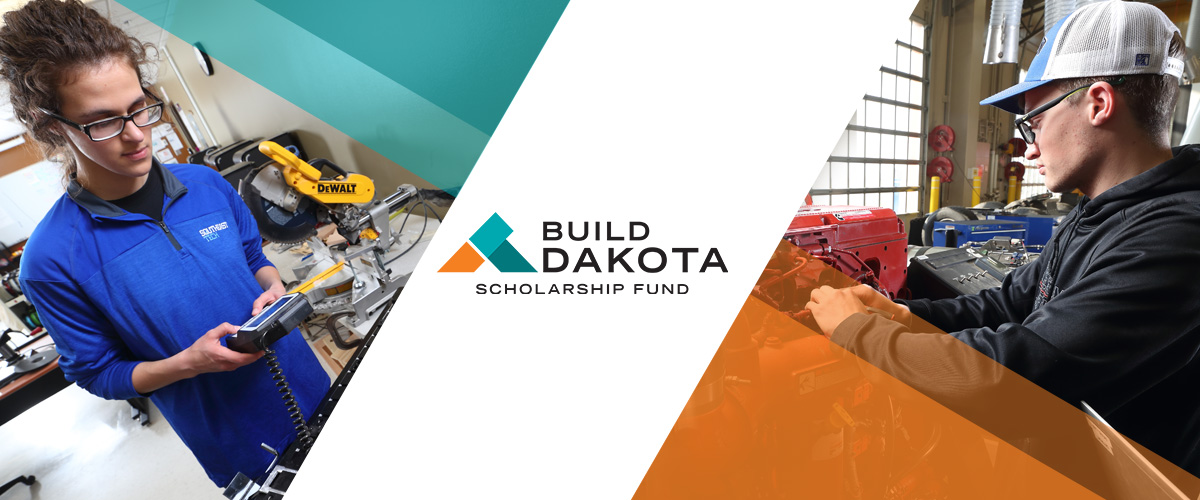 Build Dakota Scholarships
Start building your career here, and learn which programs are eligible for this full-ride scholarship.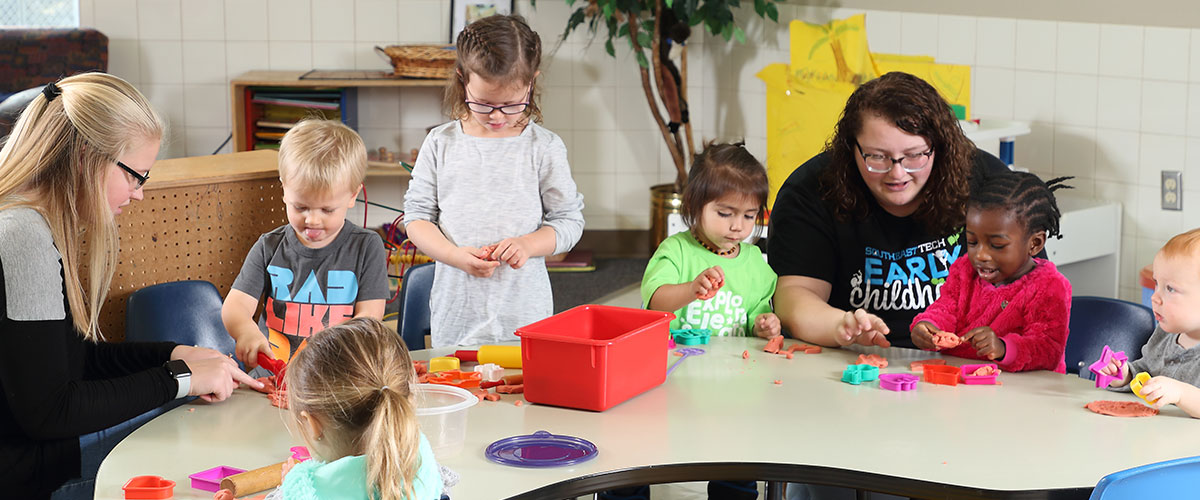 Early Childhood Workforce Support Scholarships
Hit the ground running, graduate with no debt and start your career in early childhood or education.
Southeast Tech Scholarships
Current and newly accepted students to Southeast Technical College are eligible for Southeast Tech Scholarships that are funded through the Southeast Tech Foundation. These scholarships are funded by annual and endowed gifts to the college. The scholarships typically range from $500‒$1,000, and each scholarship has unique eligibility criteria.
The scholarship application window for academic year 2023-24 will run from Jan. 1‒March 31, 2023.
Career & Technical Education Academy Scholarships
Southeast Tech awards scholarships to eligible students who have completed courses at the Sioux Falls School District's Career and Technical Education Academy.
The scholarship application window for academic year 2023-24 will run from Jan. 1‒March 31, 2023.
South Dakota Opportunity Scholarships
If you receive a South Dakota Opportunity Scholarship, please notify the Financial Aid Office.
This scholarship is designated for the most academically accomplished high school graduates to receive an affordable education at any university or technical college in South Dakota that is accredited by the Higher Learning Commission of the North Central Association of Colleges and Schools. The South Dakota Opportunity Scholarship provides $5,000 over four years to a qualifying student who attends an eligible higher education institution in South Dakota.
More about the requirements, awards and application process can be found here.
Third-Party Scholarships
In addition to scholarships provided through Southeast Tech, multiple local, state and federal scholarships are available for students as well.
Our Program:
We are offering four currently enrolled students or high school seniors who are pursuing post-secondary education an opportunity to be awarded $2,000 in tuition assistance towards their upcoming semester! This scholarship is ongoing and will be available for both the spring and fall semesters each year.
Those students who have exceptional drive and ambition should submit a 700-1500 word essay to scholarships@americanmuscle.com telling us who you are and how you plan on using your automotive education to incite positive change and innovation within the custom car industry. All entries must be submitted as a PDF or Microsoft Word document to be eligible for consideration and must also be accompanied by proof of current enrollment in an accredited United States college or university.
Please submit your essays by
12 p.m.
EST on Oct. 15 for all spring semester applicants and by June 15 for all fall applicants. Winning scholarships will be paid directly to the school as a tuition payment.
Winners will be selected by Nov. 15 for all spring contestants and by July 15 for fall applicants.
This is a permanent program that is offered every year and is open for submissions each spring and fall semester!
Who is eligible:
Only students currently enrolled full-time in an American college, technical institute, or high school seniors planning to attend a college or post-secondary institution are eligible to be awarded a scholarship through this program.
AmericanMuscle Student Scholarships are non-renewable, however, winning applicants may re-enter in future contests by writing and resubmitting a new essay. Only one essay per student, per semester is allowed.
Scholarships are restricted to those students pursuing an automotive degree or related field of study.
All applicants must include some form of proof of enrollment when submitting applications to
scholarships@americanmuscle.com
.
Two scholarships for $2,000 each are awarded twice a year (4 scholarships total) to students who are currently enrolled full-time in a secondary vocational school, technical institute, or are high school seniors who are enrolled in one of the aforementioned institutes. Two scholarships will be awarded for the fall semester and two scholarships will be awarded for the spring semester each year.

Scholarship Details
At AmericanTrucks we are passionate about our mission to serve the community that supports us. We've recognized a growing trend in the building trades industry. Educational programs are receiving a lot of attention from national leaders and it's our goal to be involved in a meaningful way.
With that in mind, we are pleased to offer four $2000 scholarships to students pursuing a career in the traditional building trades such as HVAC, carpentry, electrical, or related fields of study.

Two scholarships will be awarded for the fall semester, and two scholarships will be awarded for the spring semester each year.
Engineering Technology Students: ASHRAE is an organization that students should be involved with in order to be qualified for an ASHRAE scholarship. For more information visit their website: www.ashrae.org/students.
FUELING YOUNG PEOPLE TO CHANGE THE WORLD.
Earn easy scholarships through community service.
Are you between the ages of 13 and 25 years old who is interested in volunteering, and looking for scholarship opportunities? Then you're in the right spot.
Enter for the opportunity to win by doing community service. No essays, no GPA requirements, no recommendations, no applications...and you can enter multiple scholarships. Official rules apply.
DoSomething.org has awarded $800,000 in scholarships over the past 5 years to over 350 winners. And don't worry, if you haven't chosen a college or university yet, we'll hold on to your money and there isn't really a time limit on that.
How it works:
Sign up for a campaign.

Complete the campaign (some take 5 minutes or less!).

Upload a photo to show you completed the campaign.
That's right—we're giving away $1,000,000 for this year's Work Ethic Scholarship Program. Through this program, we recognize people who understand the importance of work ethic, personal responsibility, delayed gratification, and a positive attitude. These are hardworking men and women who will keep the lights on, water running, and air flowing. These are people who show up early, stay late, and bust their butts day in and out. It's not for everyone. Hard workers are hard to find, but we know you're out there.
The National Farmworker Jobs Program, administered through Black Hills Special Services Cooperative, has resources available to students and job seekers who meet eligibility criteria.
Eligibility Criteria includes individuals who:
Has worked as a Seasonal Farm/Ranch Hand in the last 2 years OR
Has worked as a Migrant Farm/Ranch Hand in the last 2 years, AND
Meets low-income guidelines AND
Complies with Selective Service Registration
For individuals who are eligible for the program, her/his dependent family members automatically qualify as well.
Some of the resources available through the program include:
Stipend of $500 per year for school

Rent assistance up to $300

Fuel assistance for transportation

Grocery assistance
Individuals who believe they may be a candidate for this program should contact:
East River Area

800-726-9026 or 605-367-5300
Funding for the scholarship program is generated through a $10 fee charged to LPNs and RNs at the time of licensure. The number and amount of each scholarship is determined annually by South Dakota Board of Nursing, not to exceed $1,000 per academic year.

Scholarships may be used only for direct education expenses such as tuition, books, and fees. Room and board are not considered direct educational expenses.

Eligibility & Instructions

Students in Licensed Practical Nursing (LPN), Registered Nursing (RN)and Advanced Practice Registered Nursing (APRN) programs must submit the Scholarship Application directly to the Board.

RN and APRN applications are due by June 1 and awardees will be selected during the July Board of Nursing meeting. All applicants will be notified of selection. Scholarship payments will be made at the start of the fall and spring semesters.

LPN applications are due by October 1 and awardees will be selected during the November Board of Nursing meeting. All applicants will be notified of selection. Scholarship payments will be made at the start of the spring semester.

Information is available at this site on the board of nursing web page: http://doh.sd.gov/boards/nursing/loan.aspx.
There are several scholarships available online for students attending technical schools.
The South Dakota Association of Environmental Professionals (SDAEP) Scholarship Program provides one or more scholarships annually to students with directed studies relating to the protection and enhancement of our natural resources, the environment, and other similar fields.
Eligibility
Applicants should desire a career in a trade supportive to the protection and enhancement of our natural resources, environment, and/or related fields.
Students that are intending to enroll or are already enrolled at a South Dakota university, technical institution, or other post-secondary trade school. Applicants must intend to enroll for the fall semester.
Applicants must possess a grade point average of 2.0 or greater
Part-time studies will be considered if applicant can show good cause for other than full-time studies and that the course of study is directed toward a degree, certificate or similar identification of graduation.
Students who have received an SDAEP scholarship in the past are eligible to apply each year.
High school seniors are eligible to apply.
Children and spouses of scholarship committee members are not eligible.
The South Dakota Well Drillers Association is pleased to announce it is offering scholarships totaling $ 10,000.00 to be divided between five deserving students. The Association recognizes the need for educational advancements at all levels of the industry and seeks to support students pursuing their educational goals.

Applicants must be a resident of South Dakota or a relative of an individual employed by a Member Company in good standing of the SDWDA. Applicant must have graduated from a South Dakota high school. Applicants must be a full-time student of an accredited South Dakota University or Technical School that has successfully completed their freshman year with a major emphasis on a degree related to the water well/groundwater industry. Areas of study include, but are not limited to: Engineering, Geology, Hydro-Geology, Environmental Sciences, Water Conservation, Pump Installation/Plumbing, Geo-Thermal, etc.

Applications must be postmarked no later than December 15, 2022. Applications and rules for application can be obtained below or by contacting Dennis Duvall, Committee Chairman by email at: dennis@dakotaenv.com. Please include your mailing information in your e-mail. You can also check out our Facebook page at: SDWDA Scholarship Committee.
The Franklin Krause Foundation, established within the South Dakota Community Foundation, is pleased to announce a $1,500 scholarship will be made available for one eligible scholarship applicant for 2023. The Franklin Krause New Horizons Scholarship is available for residents of Roberts and Custer County, South Dakota and Richland County, North Dakota or contiguous counties.
Applications are due Feb. 1, 2023. The scholarship recipient will be chosen by a diverse, standing committee representing a resident of the primary counties, educators and agricultural business owners. The winner will be announced no later than March 1, 2023.
Providing $10,000 in Financial Assistance to Military Veterans and their Families Pursuing an Undergraduate or Graduate Degree Related to Technology
The HotelPlanner Scholarship Program was designed to provide financial assistance to veterans of the United States military, along with the spouse/partner and children of U.S. military veterans, who are pursuing an undergraduate or graduate degree related to technology.
HotelPlanner recognizes the incomparable commitment made by the brave men and women of the military who fight to keep the country safe. As such, it is committed to support those individuals who choose to pursue a college degree and are in need of additional funds to help defray the costs of higher education.
As the leader in booking group and individual hotel travel online, technology is at the heart of everything HotelPlanner does and critical to the success of its business. Similarly, companies, governments and military operations around the world are increasingly dependent on those who understand and work with technology. This scholarship is intended to grow the pool of qualified individuals by helping to make their education in technology a reality.
Recipients
Awarded to ten applicants (veterans or veteran's spouses/partner and children) seeking a graduate education in an accredited degree program related to technology.
Awarded to ten recipients, two times per year - $1,000 each. Recipients may re-apply as long as they continue to meet the requirements. Funds will be issued via check made payable to the institution and mailed to the recipient's mailing address on file.
Deadlines & Notifications
Summer - Apply by Aug. 15 / Notified by September

Fall - Apply by Dec. 15 / Notified by March
Tampa-based optometric practice looks to support the future generation of leaders with a $1,000 fund to any current or upcoming college student.
Scholarship Search Engines
FastWeb's

free scholarship search includes more than 600,000 scholarships worth more than $1 billion. FastWeb also offers expert advice and how-tos on financial aid, scholarships, selecting a major, choosing a career and more. FastWeb is provided completely free.




At

careeronestop

search more than 7,000 scholarships, fellowships, loans, and other financial aid opportunities.


Tuition Funding Sources

-- Established in 1987, TFS is a privately owned website exclusively sponsored by Wells Fargo.
Do you have questions about scholarships? Call the Southeast Tech Admissions Office at 605-367-6040 or email scholarships@southeasttech.edu.